Over at Tumblr.com (our site is frenchtoastsunday.tumblr.com) every Tuesday users participate in TOP TEN TUESDAYs, listing off their current top ten moments of the day.
Here's a little FTS twist on top 10: (9-14-10)
ONE
Trailer for Hereafter:
Matt Damon really shines in the trailer for Hereafter, which seems to be a very intimate look at a tough subject to tackle: the afterlife.
TWO 
Trailer for A Woman, a Gun and a Noodle Shop

aWaGaaNS is a Chinese an intriguing remake of the Coen Bro. Blood Simple. That caught my attention, along with the gorgeous scenery.
THREE
FTS just recently joined The Large Association for Movie Blogs, otherwise known as LAMBs. Keep an eye out for when we get featured!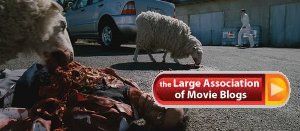 FOUR
Clip from Super featuring Ellen Page and Rainn Wilson

SIX
Our first video review!
Subscribe to our channel!
Our poll for favorite summer movie! It won't be around much longer so go an vote, its located on out sidebar